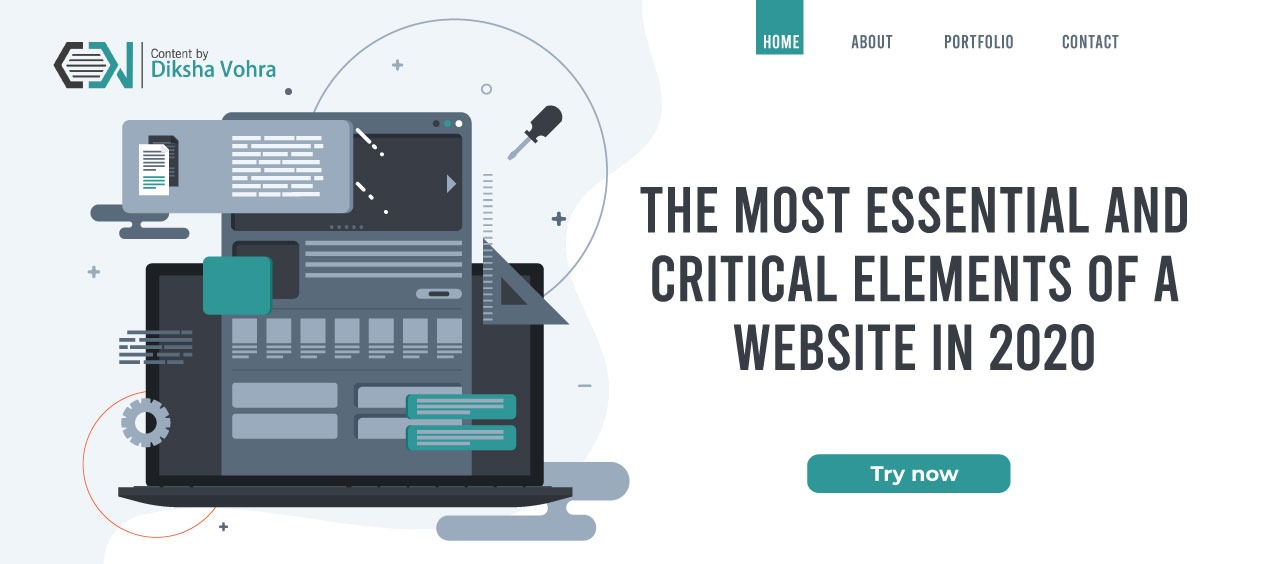 Jan 10, 2021
The most essential and critical elements of a website in 2020
In the world of audio- video visuals and OTP platforms, does one really need a website? What does it really do? You would think I belong to some alien planet asking you this question in an era that is overpowered by technology! There are over four billion people using the internet and with more than 200 million searches every hour, one can easily fathom the need for a strong, powerful and error free website.
The post-pandemic world is going to rely heavily on e-commerce and the ease of availability of products and services is going to be their primary focus. Time is indeed money and everyone wants to make the most of it. As per a report published in 2016, there over 127000 business establishments in Dubai. Some of these businesses can be easily distinguished with the others however there are many businesses that offer the same products and services. How do you make sure that you stand out from the rest?
Your website along with well curated content is what narrates your business story. Primary reasons why a website is absolutely imperative are -
Important for marketing
Increases sales through online customers

Builds great customer relationships

Accessible 24>7

Makes the correct first impression

It's cost-effective with a positive ROI

Convenient for customers & accessible from anywhere

Adds a professional touch to your business

Wider audience reach.

Gets important feedback from customers

Opportunity to beat competition via SEO and great tool for content marketing
Your website is your online home and you need to make sure that you make it beautiful and appealing for your visitors. It is the base for all your online marketing and operations. So whether you have a website or are simply looking to tweak few elements in your website, here's a list of top elements that your website must always include
Responsive/Mobile-Friendly Design
People are always on the move and their phones are their lifeline. More than 50% of any website traffic comes from mobile devices and it is extremely relevant for your website to perform efficiently for mobile users. People use websites on their phone for searching, browsing, researching, shopping, reading and so much more. Always make sure that with a responsive desktop version, the mobile version of your website is not at all sluggish.
Fast Page Loading Speed
We all dislike waiting, whether it's in a queue at a billing counter or at the petrol station. Your audience will leave your page if your website doesn't open within 1-2 seconds. The increase in mobile traffic has led google to consider the website page responsiveness while ranking a website. So if you want your website to rank higher in your customer's search results make sure it loads faster. A faster website makes for a great browsing experience for your customers.
Clear CTA instructions
Websites are not just built or designed to showcase your products. Your website needs to carry clear instructions that enable your audience to connect with you. Every website should allow its users to browse and connect with the brand when they are ready to engage. Define your business objective, then use callouts, images, succinct copy, buttons, etc. to drive users to take your preferred action.
Reviews
Word-of-mouth publicity still remains the number one marketing technique. If people see reviews on your website, it is highly likely that they will be drawn towards your brand. Be sure to display predominantly good testimonials on your website and make it easy for people to read all your reviews by linking to various sites. Having a great number of positive reviews informs potential customers that your business/ products/services are trustworthy and good.
Always make it easy for your clients to contact you. Ensure that your content connects with your audience and your website is a treat to the eyes.
Does your website measure up to these elements? If you need help with curating an excellent website and even if some essentials of your website need sprucing up, we'd be happy to get your site ready and make it client-friendly. Contact us today.
Leave a Reply
Your email address will not be published. Required fields are marked *