Best Brochure Design in Dubai Buy Now
WHY CREATE BROCHURES?
What do you perceive when you first hear about a brochure? A piece of paper with pictures, content, contact details. Well, you can rely on this piece of paper to get into your customer and potential customer's psyche. One might add, the world is more technically driven, and information can be found on the internet. Even in the dawn of Industry 4.0, more companies are using both digital and print brochures to reach a wide array of audiences.
Brochures send a subtle yet impactful message to readers and further influence them to decide whether they should opt for your products and services. It is a versatile piece of printed information that can be distributed physically or on the company website. Additionally, promoting products and services, even new ones, does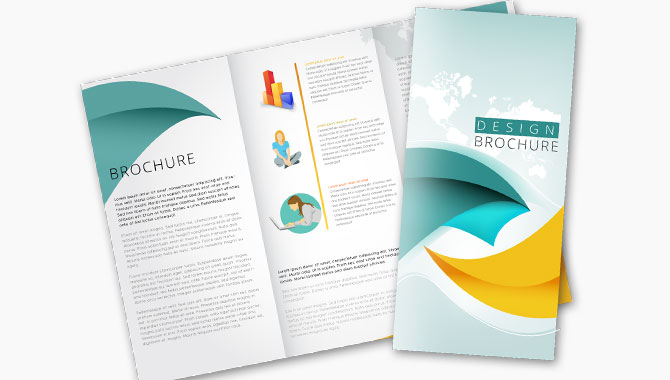 see the light of the day with brochures.
Today brochure designs in Dubai can move from offices' lobbies to hotel reception desks and waiting areas. Brochure designs in Dubai are widely used in art galleries, tech giants, construction companies, even government organizations. Brochures in Dubai are also one of the integral parts of marketing campaigns and an essential tool to interact with customers on a personal level.
Life isn't anything like a brochure, so our expert team comes with the best approach to curating user-friendly brochure designs in Dubai. Long story short, the brochure we provide is a mirror reflection of your company's mission and vision.
We also design flyers!

What's different in our brochure designs in Dubai?
Our team is an amalgamation of young and dynamic people; they are tech-savvy and have an eye for detail. Consider us as connoisseurs, working together to provide aesthetically beautiful brochure designs in Dubai through extensive research. We offer tailor-made brochures and flyers that are cost-effective and offer high readability.
Our brochure designs in Dubai focus on both digital and printing needs to give an edge to your marketing campaigns. This cost-effective marketing tool goes a long way to appeal to your clients to reach out to you for your products and services.
You can also choose to rely on one of our flagship offerings, "Content Writing", to curate attractive brochure designs in Dubai. Digital by Diksha Vohra is dedicated to curating short, crisp, aesthetically mesmerizing, well-written brochure designs in Dubai to connect you to your target audience.
Need help to design and write brochures in Dubai?

Digital by Diksha Vohra is your one-stop destination for brochure designs in Dubai!